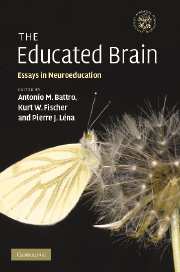 Battro, A., Fischer, K., Léna, P. (2007). The educated brain. Essays in neuroeducation. Cambridge University Press.
Pour le découvrir, je vous invite à lire l'introduction, disponible en ligne et les extraits suivants:
Deux forces font pression pour l'émergence d'une rencontre fructueuse entre éducation et sciences de la cognition (prenons ce terme au sens plus large que les neurosciences : capable de comprendre l'intelligence artificielle et la robotique et leur capacité de modélisation des fonctions mentales, la psychologie cognitive et du développement, et pourquoi pas la philosophie de l'esprit et des sciences). La première de ces forces est certainement représentée par le développement des sciences de l'esprit et du cerveau, avec leur promesse de dévoilement des mécanismes de l'apprentissage. La deuxième est extérieure au cerveau mais peut être considérée comme faisant partie d'une vision élargie de l'esprit : c'est le développement des technologies de l'information et de la communication, des technologies digitales par lesquelles les limites de la cognition s'étendent au-delà du scalpe de manière originale.
C'est là que l'approche de l'Evidence-Based Education (EBE) vient se joindre à la neuroéducation/neurosciences de l'éducation/la nouvelle science (cognitive) de l'apprentissage : l'expérimentation dans la classe et l'évaluation des résultats. Non seulement, au niveau de la corrélation avec le fonctionnement cérébral, mais aussi au niveau de l'efficacité empirique. A tester comment ? Avec des tests randomisés, des études longitudinales ?

The emerging field of neuroeducation, concerned with the interaction between mind, brain, and education, has proved revolutionary in educational research, introducing concepts, methods, and technologies into many advanced institutions around the world. The educated brain presents a broad overview of the major topics of this new discipline… (Foreword)
Many scientists and educators feel that we are advancing toward new ways of connecting mind, brain, and education (MBE). This feeling arises, in part, because the disciplines related to the cognitive sciences, neurobiology, and education have made considerable advances during the last two decades, and scholars in the disciplines are beginning to seek interactions with each other (Fischer, Bernstein, & Immordino-Yang, 2006). Moreover, the increased connectivity among these disciplines has been enhanced by the growth of communication and information in the globalized world. The "digital environment" of our planet is a new phenomenon in evolution and in history (Battro, 2004), as Rita Levi-Montalcini describes in the preface to this book. We are lucky to live in a time when changes in education can rapidly reach and enrich the lives of millions. This opportunity invites us to foster the coordinated work of scientists, teachers, and students of many nations, races, and religions in the new transdisciplinary field of mind, brain, and education (Léna, 2002, and Koizumi, this volume). One name for this effort is neuroeducation (Bruer, this volume), which emphasizes the educational focus of the transdisciplinary connection. Another is educational neuroscience, where the focus is on neuroscience, to which education connects. We use the name "mind, brain, and education" to encompass both of these focuses and others that bring together cognitive science, biology, and education. On one side, this emerging field touches on all levels of modern neuroscience: from molecules to genes, from synapses to artificial neural networks, from reflexes to behaviors, from animal studies to human brain imaging (Dawson & Fischer, 1994). On the other side, the term "education" is as vast as human culture itself. Because of the process of globalization, which intermingles so many different cultures, languages, and beliefs, the field of mind, brain, and education is becoming increasingly complex and necessarily diverse. There is no doubt that education is much more than its neural aspects, but the brain and biological sciences can illuminate many of its processes and methods. New brain imaging and DNA-analysis techniques make increasingly visible hidden brain and genetic processes. In a few cases, scientists and educators seem to be on the verge of being able to observe the effects of educational interventions on brain processing and genetic expression. These important advances have stimulated great excitement and increasing expectations from society, which is enamored of biology because it has made so many impressive advances in recent decades. These great expectations, although sometimes unrealistic, reflect a genuine need for advances to improve education and deal with the complex new world of the twenty-first century, with its explosion of information and population and the shrinkage of the world through communication and globalization. The need for major advances in education is urgent. In an earlier workshop entitled The Challenges for Science – Education for the Twenty-First Century, held at the Pontifical Academy of Sciences in Rome in November 2001, the issue of science in basic education was addressed: How can the world deal with the increasing gap, in almost every country, between the level of scientific knowledge and technology on the one hand and the scientific literacy of the population on the other, no matter what the stage of economic development? The remarkable success of the scientific and technological revolution in the twentieth century has created a major new problem for education. This earlier workshop and the questions it raised set the stage for the workshop on Mind, Brain, and Education in November 2003 that led to this book (Preface).
The discussion in the workshop converged on the following conclusions:
1. The promises of neuro- and cognitive sciences for a better understanding of the underlying basis of learning are developing rapidly. Cross-disciplinary research should involve educators and deal with real educational practices.
2. Given the complexity of the matter, care should be exercised to avoid hasty conclusions on education, driven by superficial implications of recent findings, such as uncritical statements about « Brain-based schools ».
3. There are nevertheless areas where knowledge appears sufficiently solid to support conclusions impacting learning (e.g. sleep needs, arithmetic, reading abilities and bilingualism) and should be seriously considered. (Preface)
Chapitres à signaler en particulier (Preface):

In the chapter "Historical considerations on brain and self," Fernando Vidal, a distinguished historian of psychology at the Max Planck Institute in Berlin, describes the historical transition from considering the brain the "seat of the soul" to viewing it as the "organ of the self," a concept for which he coins the term "brainhood." The modern history of this significant conceptual change started in the eighteenth century when the brain began to be understood as the only organ essential to the self. Indeed, the recent development of biology and medicine, in particular of the neurosciences, has reinforced the idea of a "cerebral subject," a brain-based person. Many classical puzzles related to this conception (thought-experiments or philosophical brain-fictions like brain transplants, extra-bodily conservation, etc.) are still used in current debates about human identity, and the conception has pervasive practical and ethical implications, such as the notion of "brain-death" in medical practice. Vidal coined the new term "brainhood" to name the condition of being a brain – the "human being as brain" – which gives a wide anthropological and social picture and will certainly influence education in the future, in ways we cannot predict today. This idea of brainhood also inspires the work of some artists, as in the remarkable picture in this chapter of a "self-portrait" by Helen Chadwick – two caring hands holding a brain. Most important, the ethical impact of this conception in education is fundamental, requiring careful consideration of possible controversial observations, experiments, and even "non-invasive" interventions and assessments on students' brains. Groups such as the recent Committee on Neuroethics of the Ministry of Education of Japan will help human society to illuminate the implications of this conception of humanity (see Koizumi).
John Bruer, a philosopher by training and president of the James S. McDonnell Foundation, has been a key person in shaping early research in cognitive neuroscience and education in the United States and abroad. In "Building bridges in neuroeducation," he sharply criticizes how results of cognitive neuroscience are often used in educational practice and policy. One of the typical misuses is related to a very popular claim among educators that the critical periods shown in the visual system are the best model to explain cognitive development and life-long learning – a claim that Bruer demonstrates is fundamentally wrong. Moreover, the common idea that we need an elevated brain metabolism and synaptic density in order to learn new concepts and skills is not consistent with controlled experiments. As Bruer says, "over-reliance on developmental neurobiology generates pseudo-implications for teaching and learning." We should follow instead a broader approach to learning, where previous experience in a specific domain is more important than a presumed biological "window of opportunity" or critical period. Bruer's analysis is that neurobiology can connect to education through its illumination of cognitive science research on learning and teaching. He argues that neurobiological research cannot connect directly to a better understanding of education. He uses the example of mathematics, in which programs like RightStart showed impressive results in teaching mathematics, especially to children at risk (Griffin, Case, & Siegler, 1994), and those cognitive results and concepts in turn relate to the neuroscientific work of Stanislas Dehaene and colleagues (Dehaene, this volume) on the multiple cortical representation of number concepts (number words, Arabic numerals, and analogue magnitudes). Together, the neuroscientific research and the cognitive research illuminate the educational pathways toward mathematical skill, but separately, he argues, the neuroscientific research does not connect to education. Similar connections from neuroscience to cognitive science to education seem to be happening in research on acquisition of language and reading (Dehaene, Goswami, Petitto, & Wolf, this volume). Bruer concludes that we need to refine our neuroeducation research strategy to connect neuroscience to cognitive science, and he asks for increasing "recursive interactions" between the fields involved in basic neurocognitive research and educational practice.